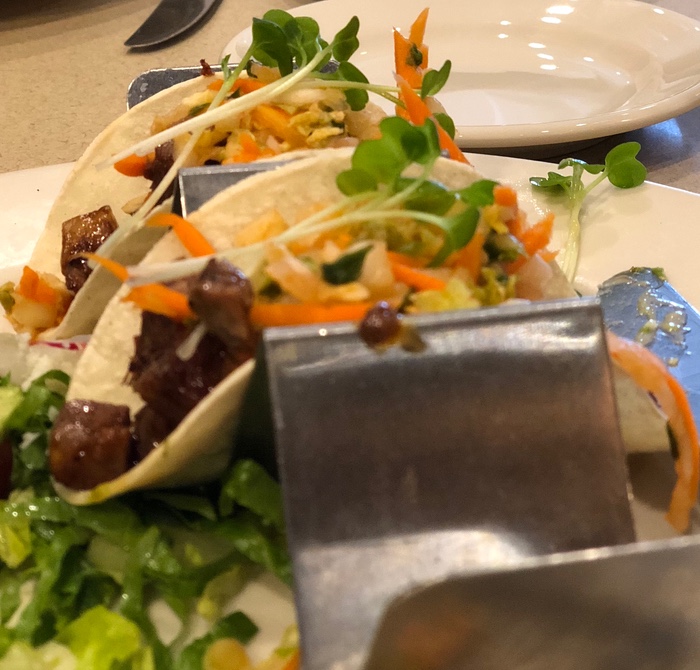 That tortillaphiles are Dapper D(i)an(ne)s is a well-known fact. They take care of themselves; present themselves appropriately in reverence of the tortilla. Nordstrom, then, is a destination for those who want to appear just so. And of course, the department store accommodates genteel tortillaphiles with a tortilla-based offering in their café.
The Korean beef taco might be a trend of yore, but a world without it would be a poorer one. It has reached a certain timelessness, not unlike the ascot you undoubtedly will find in Nordstrom's generous tie-section1.
Nordstrom's Marketplace Café in Tukwila does a respectable job with their tacos. They might not be worth venturing through the I-5 battlegrounds for, but sampling them is worthwhile, should you be in the area. These are solid tacos, with only the tortillas (somewhat ironically) keeping them from a high tier.
But let's not get ahead of ourselves, as the positives generally outweigh the negatives. The meat is well-prepared, with a nice bite, and the char flanks the tender insides just so. There's a possibility the barbecue sauce could scare some away—it's surprisingly spicy—but I, for one, celebrate the lack of typical mall-café blandness.
Props, too, to the accompanying salad. The fresh avocado offsets the heat to maintain a delicate balance. It's the plate one should hope for from a higher end café, albeit one not remotely similar to a traditional Mexican meal. If that's a problem for you, it's probably time to branch out.
The tortillas, or the lack of them, is a bit iffier. One thing is the grocery store quality—a void of flavor, and dull textures—another is the lack of a proper Double Tortillaing™. With a generous layer of barbecue sauce, two stacked tortillas is a must; otherwise, things get soggy and fall apart. As it does here. It gives you little time to properly enjoy the taco unless you are O.K. eating it from a plate with fork and knife. That'd be a bit sad, as (let's face it) it makes the tortilla superfluous.
At a hefty $14.25 for three tacos, I feel the price should cover the basics, but that isn't the case at Nordstrom. Still, props for getting the meat's doneness right, and the sauce is an unexpected bonus. The presentation is as fancy as one would expect from a department store café. All in all, it's more than an adequate meal when you're taking a break from upgrading your wardrobe to tortillaphilia-worthy standards.
1 To whomever at Nordstrom who is poring over this—let's talk sponsorship!