Well, this was all a bit sad.
I was downright intrigued when Guaymas advertised mole with a mysterious mix of chiles. Mysterious? A mystery? That's something anyone with a tortilla-based curiosity will be intrigued by. Furthermore, having enchiladas topped with the chocolate-based sauce is a combination that theoretically should be a home-run.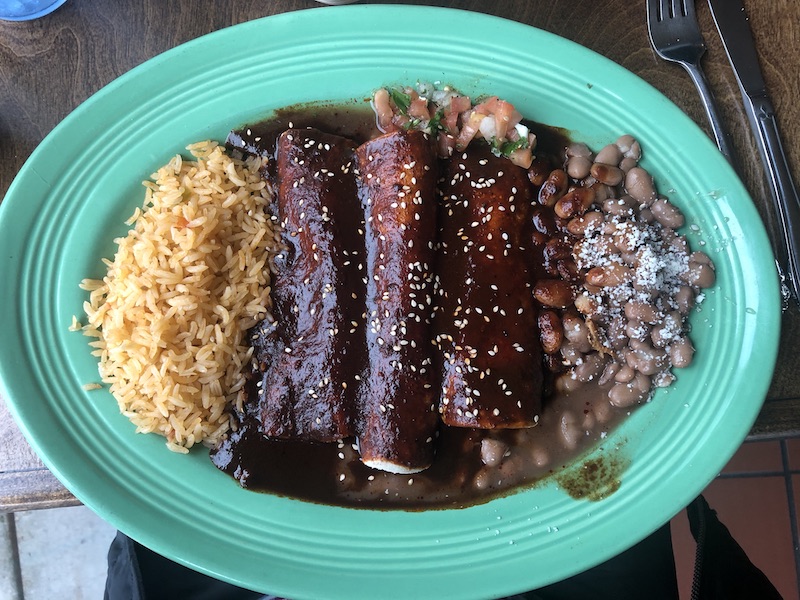 I will maintain that the intentions likely were good, but the execution of these enchiladas was wholly offensive. Was the mystery mysterious because the ingredients weren't listed on the jar Guaymas undoubtedly used for the meal? I just cannot believe it to have been a homemade sauce, though even if it was, the rule of six of one or half a dozen of the other applies: The mole was close to literally being inedible, sickeningly sweet, like a melted Hershey bar poured over tortillas.
Maybe the simple answer to the promised mystery is that there were no spices in the mix. All I could not taste was the sad imitation of chocolate. It wouldn't hardly have mattered, anyway: Important as spices are, they would not have been enough to add anything to this mole.
Nor could the sides salvage anything. The beans were of the canned-quality – Safeway, maybe? – and the rice was just that. Rice.
Finding a Mexican meal that is sickening is a rarity, but I'll be damned if Guaymas didn't manage to serve it up.
Location Danger
Be warned: Guaymas can be found in seven locations. Don't feel safe even when outside of Green Lake.